Product Type: Waterproofing
Clients: 300+
JOINT SEALANT is one part self-leveling, moisture curing, rubberized joint sealant specifically developed to form a permanent watertight seal in interior and exterior joints in horizontal surfaces. it contains no solvents, joint sealant cures to flexible rubber with extraordinary adhesion and cohesion, capable of compensating for joint movement of +25% of the original joint with, the joint sealant is capable of supporting foot traffic as well as light, vehicular traffic when fully cured. Super Sealant is a rubber-elastic JOINT SEALANT with high mechanical load capacity, good resistance to water, seawater, salt solutions, benzene, and mineral oils; it resists roots, does not rot and has very good retraction capabilities.
It is important to note here that joints of building are considered as the weakest to leakage because generally, the building blocks of construction including slabs, metal covers and roofing membranes don't let water or moisture enter the building. Joint Sealant is product which can keep your building tight and sustainable when it is applied in a precise and professional manner.
Joint Sealant is most effective for the irritating construction joints through which water can easily seep into the building and weaken the overall structure. Similarly, for connection joints and movement joints, Joint Sealant is one of the best waterproofing products in Pakistan.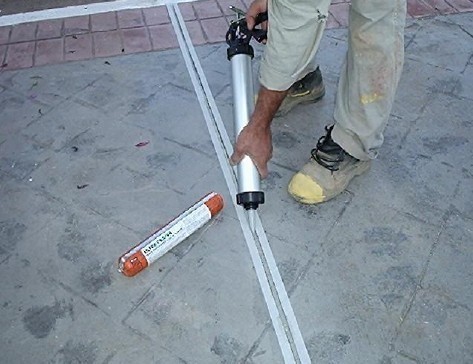 Joint Sealant, once applied, can easily last for several years and it makes the leaking joints waterproof instantly. In Pakistan, there is scarcity of trained professionals for joints waterproofing as well as good quality joint waterproofing products and Joint Sealant is one prime example of this. Joint Sealant can be considered as an excellent quality product for waterproofing services in Pakistan. You can download the Joint Sealant product description from the bottom of the page.
Kaufmann Enterprises Pvt. Ltd. is offering the best waterproofing services for leaking joints in Pakistan and it is rated as the best waterproofing company for leaking joints in Pakistan. Read more about our Waterproofing Services.