Product Type: Waterproofing
Clients: 500+
ROOF SEAL is a single component acrylic co-polymer based waterproof membrane coating having excellent flexibility and weatherproofing characteristics. Due to its excellent adhesion and thixotropic nature it is an ideal material for vertical and horizontal applications.
ROOF SEAL can be used for roof slabs, terraces, balconies, sunshades, parapet walls, etc. ROOF SEAL is ideally suited for application on structures having complicated geometry like domes, arches, shells, folded plates, paraboloids, and corrugated sheets.
Kaufmann Enterprises Pvt. Ltd. makes use of Roof Seal in order to provide the best roof waterproofing services in Pakistan. Roof Seal is a single component waterproofing coating which is based over synthetic resin emulsion. Although it is very tough coating, still it is very flexible and can be easily applied over roof surface with the help of roller. Roof Seal is water based waterproofing coating which has the ability to sustain water related damages for several years.
Roof Seal is generally applied to flat concrete roofs as a waterproofing membrane. It can also be applied as external protective coating for blocks/block works prior to fixing the Aluminum Composite Panels.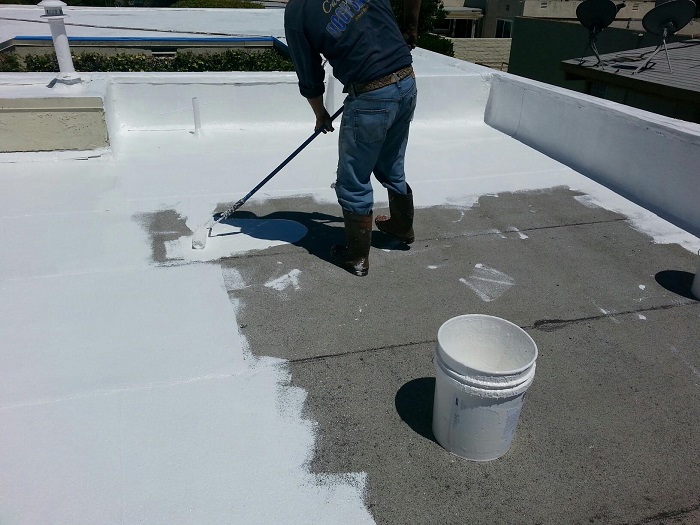 The high film buildup of Roof Seal offers effective water resistance. It has exceptional elongation properties and flexibility which enable it to sustain the normal building movements. Furthermore, it can also be applied over complicated shapes and designs in order to form highly durable yet seamless waterproofing coating. Additionally, Roof Seal strongly adheres to most of the building surfaces which includes bricks, concrete, vertical and horizontal surfaces. You can download the Roof Seal product description from bottom of the page.
Kaufmann Enterprises Pvt. Ltd. provides the best roof waterproofing services in Pakistan and it is rated as the best roof waterproofing company in Pakistan. Read more about our Waterproofing Services.